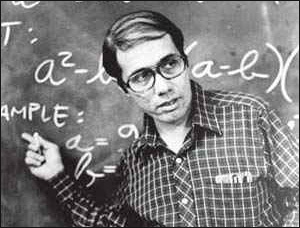 Some of the most under-appreciated under-paid people are our teachers - our teachers throughout our adolescence - through middle school and especially high school. Today I just wanted to honor a man who was an amazing teacher - but one whom I have never had or met.
Jaime Escalante - an ordinary man who had a passion for teaching yes, but even more of a passion for his students, "turned the failing calculus program at Garfield High School in east Los Angeles into one of the top in the nation."
The story goes that he taught long consistent years at Garfield High fighting for change and wanting the students to learn math. He passionately taught and delved into the lives of his students, who he believed could be taught and could succeed in life even though everything in the world was telling them they could not. Through his amazing persistence and love - by being someone who actually cared - his teaching kicked off and soon Garfield High - the lowest of lowly high schools had an AP Calculus program though no one still thought much could be done. Pretty soon students were passing the Calculus AP tests and every year the number went up. In 1982, 18 of his students passed the AP Tests but the Education Testing Service found it fishy and so 12 of the students had to retake the test in individual rooms to show they can pass it again. They did. This man would tutor his students late into the night and drop them off to their parents in his mini-van - he was committed. He turned this no name school into one of the top in the nation for Calculus. He turned students who had no care or thought of succeeding in life into students who felt there could be a future for them other than the streets.
There was a GREAT movie about this 1982 class called - STAND AND DELIVER. It is a must watch.
We need more teachers like this. And for all the teachers in my life that have so brilliantly spurred me on and taught me - thank you.
CNN Article about his death
here
Another article
here